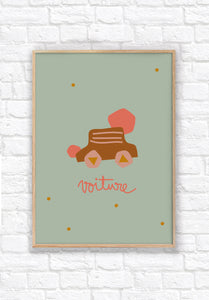 This car has wheels (like any other cars) but this one can go far and fast, as far and as fast as your little one's imagination can go! It can race, do pit stops, go on holidays, jump, talk, laugh, cry, win the race, go on the water (and not sink but if it does go under water it is because it wants to swim with the fish). My son Oscar is obsessed with cars and hearing his many and endless (and random, let's be honest!) stories inspired me a lot to make my version of a car.
Cette voiture a des roues (comme toutes les autres voitures me direz-vous) mais celle-ci peut aller aussi loin et vite que l'imagination de votre mini ! Elle peut faire des courses de voitures (et autres animaux ou choses), s'arrêter super vite faire le plein comme en F1, partir en vacances, voyager, sauter, parler, rigoler, pleurer, gagner la course, aller sur l'eau (sans couler mais si elle va sous l'eau c'est pour mieux nager avec les poissons). Mon fils Oscar a une passion immense (et une collection incontrôlable) de voitures et entendre ses histoires loufoques et sans fins m'ont énormément inspiré à faire ma propre version d'une voiture.
Our designs are printed onto 300-350 gsm heavy recycled paper / Nos designs sont imprimés sur du papier recyclé épais de 300-350 gsm.
Print sizes are as follow / Les formats d'affiches sont les suivants:
A5 - 14.8 x 21 cm
A4 - 21 x 29.7 cm
A3 - 29.7 x 42 cm
Prints do not come framed / Les affiches sont vendues sans cadres
Prints are shipped within 2 weeks after your order / Les affiches sont envoyées dans les deux semaines suivant votre commande.